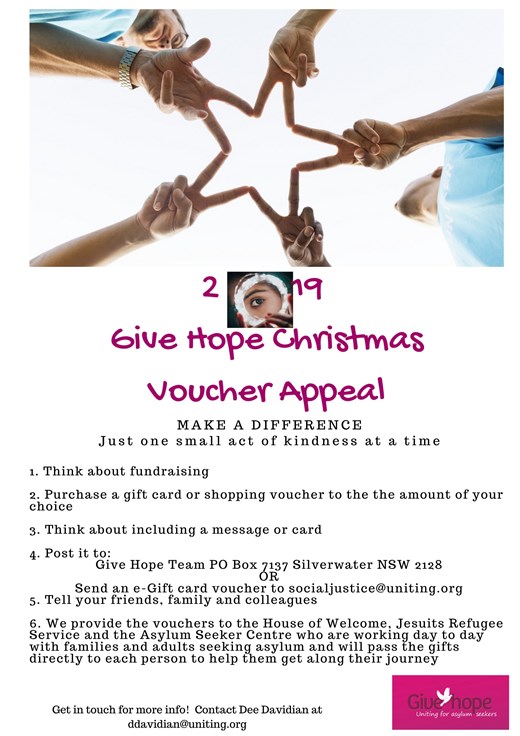 The Uniting Church has a long and proud history of defending the rights of people seeking asylum in our community and abroad. We believe all people seeking asylum should have access to a decent level of income support, adequate health care, opportunity to study and work rights-regardless of how they arrived.
Sadly, policies in Australia must change before people seeking asylum can have health, dignity and the capacity to meaningfully engage in the refugee status determination process. With your help, we can provide a Christmas gift of hope to vulnerable children, young adults and families seeking asylum and living in our communities.
Sadly, thousands of people living and raising families close to home are weeks away from disaster. They face long delays in assessing their refugee claims – while they face increasing cuts to government support such as the Status Resolution Support Service program, meaning they're less able to meet health and other needs while waiting for their immigration status to be clarified.  
As a community group, school group, church or individual, by purchasing vouchers from a retailer of your choice you're providing a direct lifeline to those in need - whilst taking the lead in building a supportive and welcoming space within our communities. Each voucher gift is a reminder to someone that we care about their wellbeing and safety. 
How will my voucher help? 
We partner with support agencies, including the Jesuit Refugee Service, House of Welcome and the Asylum Seekers Centre, that are providing an increasing level of emergency relief in a crisis of homelessness and hunger. These agencies distribute your vouchers as a form of wrap around support to people seeking asylum during critical moments of their journey.
The following are stories from Mohammed and Zara, whose vouchers have helped them on their journeys.
"Mohammed arrived in Australia with one small suitcase, and a huge amount of resilience. He had no friends, family or community connections, and found himself with no place to live and no one to turn to. When Mohammed met with House of Welcome, he was sleeping rough in a park in Western Sydney. House of Welcome was able to arrange a safe place for Mohammed to stay, and were able to give him a voucher which allowed him to top up his opal card to travel to his new accommodation. He was also able to purchase essential clothes and personal hygiene items to allow him to live comfortably and with dignity."   
"Zara is a single mother with five young children. She is not able to work due to her young child, and is ineligible for any Government support. Her four other children love going to school, however due to the families financial situation it is a time of great stress for Zara as she is unable to afford the basic school supplies. Using a voucher, Zara is able to purchase new shoes, socks and school supplies for the children to allow them to focus on their studies and not worry about being left out." 
What type of vouchers are needed?
The following Giving Guide helps you understand what types of support your voucher can provide. No voucher amount is too small, and will go towards any of the support kits below.
How to participate? 
Organising a fundraiser activity or coordinating the collection of donations and/or vouchers can can be a lovely action for a group or family.  We can provide some materials to help such as posters and content for your social media page. 
Alternatively, individuals can directly send a voucher. It could be a perfect gift at this time of the year for someone with everything that will greatly improve the lives of those who have next to nothing.  
How long will the appeal run for?
The appeal will run across the Christmas period until the 31st December. We understand there are many pressures and commitments during the festive season, and feel free to get in touch if you want to send your donations afterwards.
How can I send my voucher? 
There are 2 ways to send the vouchers. 
1. Give a voucher or money for a voucher to a nominated coordinator ( if applicable)
Physical mail
PO Box 7137 
Silverwater NSW 2128 
T 02 9407 3230 
E-voucher
Deliver eGift cards via the nominated email - 
Feel free to include a Christmas message that will be passed onto the family or person seeking asylum.